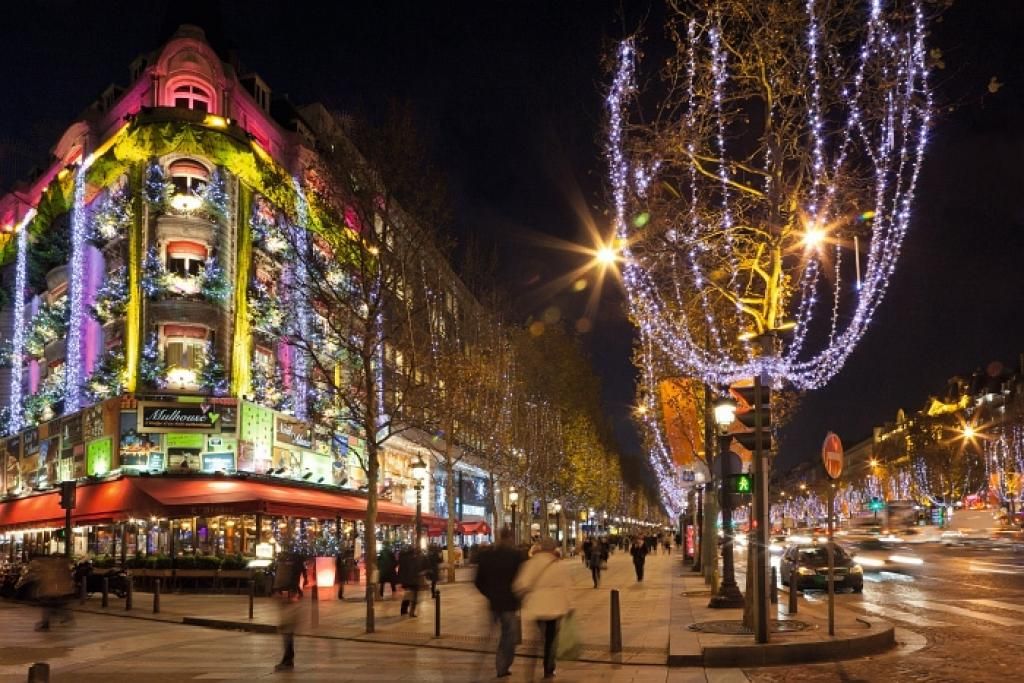 Why not celebrate Christmas in Paris this year?
Categories : L'Ouest Hotel - News, published on : 11/26/14
If you've ever toyed with the idea of spending the run up to Christmas or the Christmas holidays in Paris, perhaps now is the time to go for it! Paris loves Christmas and makes the most of the festive season. From enchanting illuminations strewn like sparkling jewels across the city, to the traditional Christmas Village on the Champs Elysées, the Big Wheel on the Place du Concorde and the Grand Palais transformed into an ice rink, there's many great reasons to visit Paris at this time of year.
Some great reasons to celebrate Christmas in Paris
The word is that the Christmas lights and decorations in Paris will be even better than before this year, and if you've ever seen the City of Light dressed in her Yuletide splendor then you'll know that is a very exciting prospect. Throughout the city, streets and avenues are adorned with twinkling lights that transform Paris into a winter wonderland. The Champs Elysées, in particular, attracts millions of visitors at this time each year, and the sight of this beautiful avenue trimmed with lights and lined with the charming wooden chalets of the Christmas market will certainly put you in a festive mood.
From November 14th the Big Wheel on the Place de la Concorde will be providing rides that allow a panoramic and breathtaking view across the city's illuminated splendor. Also guaranteed to astonish you are the window displays in the big department stores. Each year Galeries Lafayette and Printemps compete to create the finest show embodying the very essence of Christmas wonder.
From December 19th there will be an open air ice rink by the City Hall, so strap on your skates and go for a spin. Or if you'd rather glide along beneath a magnificent barrel vaulted glass roof, then the rink at the Grand Palais will be your choice of venue.
These are just some of the festive attractions of Paris that you and your family can enjoy. Be our guests at L'Ouest Hotel for the Christmas of a lifetime.
Here's some great ideas for Christmas Shopping
When you stay at L'Ouest Hotel you will find yourself at the heart of a district that is just perfect for Christmas shopping. If you love department stores, there's two of the finest and most famous in the world on the Boulevard Haussmann, the long established Galeries Lafayette and Printemps. Just wait until you see their amazing Christmas display windows! Following ten years of meticulous renovation, the St-Lazare railway station now has its own 10,000 square metres of shopping mall. Linking the department stores and St-Lazare is the Passage du Havre, another vibrant, modern retail centre with a charm all its own.
******
• Christmas market at St-Germain des Prés : december 6, 2014 to january 2, 2015
Place Saint-Germain-des-Prés, Paris 6e
Metro : Saint-Germain-des-Prés, line 4
• Champs Elysées avenue Illuminations : november 20 to january 8, 2015
Avenue des Champs-Elysées, Paris 8e
Metro : Charles de Gaulle Etoile, lines 1,2,6 - Georges V, line 1 - Franklin D. Roosevelt, lines 1 et 9 - Concorde, lines 1,8,12
• Grand Palais des Glaces (Ice skating at Grand Palais) : december 13, 2014 to january 4, 2015
Grand Palais, 3 Avenue du Général Eisenhower, Paris 8e
Tel. 0033 (0)1 44 13 17 17
Metro : Champs Elysées Clémenceau, lines 1 et 13
---
Picture copyright holder : Tourist Office Paris - Amélie Dupont