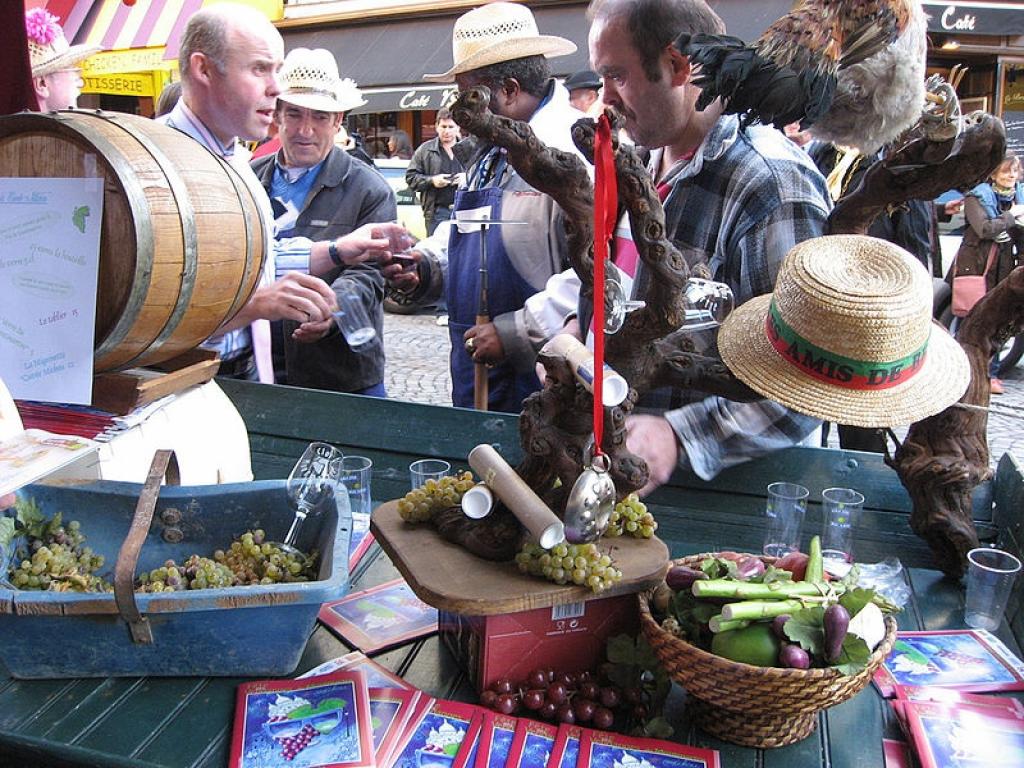 The Montmartre Grape Harvest Festival is coming
Categories : Events, published on : 9/9/18
It's an annual event that Parisians would not miss for anything in the world. The Fête des Vendanges (Grape Harvest Festival) takes place this autumn from October 10th to 14th! The grapes of the small vineyard hidden away in Montmartre have been picked and pressed, and the resultant wine will flow freely during this traditional and festive celebration. This year's edition focuses on the theme of peace. Come and enjoy a convivial drink in the picturesque and friendly Montmartre district during your stay at the Ouest Hotel.
Visit the last remaining vineyard in the heart of the capital
To kick off this celebration of Parisian wine, you can take the opportunity to visit one of the most magical corners of the capital, the Clos Montmartre vineyard. Free tours of this little-known site perched atop the hill of Montmartre are offered, along with tastings. Various grape varieties flourish here, matured under the northern sun and embraced by the friendly and romantic atmosphere of this district of Paris. A place you'll never forget!
Dance the night away to celebrate the harvest
The party will be in full swing every evening during this event, with talented young performers who will set the 18th arrondissement alight. Electro, chanson, folk, rock and hip hop; there is something for everyone in this delightfully diverse programme. Twenty free concerts will take place in different parts of this lively, dynamic and resolutely festive district. From Wednesday to Saturday evening, come and dance and discover the friendliness and energy of Montmartre!
Art on every street corner
The Fête des Vendanges is also an opportunity to enjoy a top-flight programme of artistic events, including exhibitions of contemporary art and photography, live shows, choirs and much more. Young artists seize the streets and bring you their latest creations, so that your strolls around the picturesque thoroughfares of Montmartre will bring you face-to-face with all kinds of delights. Gourmets will want to head to the Sacré Coeur Basilica, at the top of the Butte Montmartre, to indulge their foodie passions. Here you'll find a hundred local producers presenting their best wares for you to taste.
Uplifting events around the theme of Peace
Finally, the Fête des Vendanges has chosen this year to explore the theme of Peace, and several moving events will follow through on this. Steeped in history, the district of Montmartre uses its past to evoke the greatest triumphs of peace, and several walks allow you to learn more about the tradition of inclusivity and harmony in this part of Paris. For your stay, book your room today at the Ouest Hotel in the 8th arrondissement. Located near the Gare Saint-Lazare, a few bus stops from Montmartre, the Ouest Hotel is your delightful home from home in Paris.