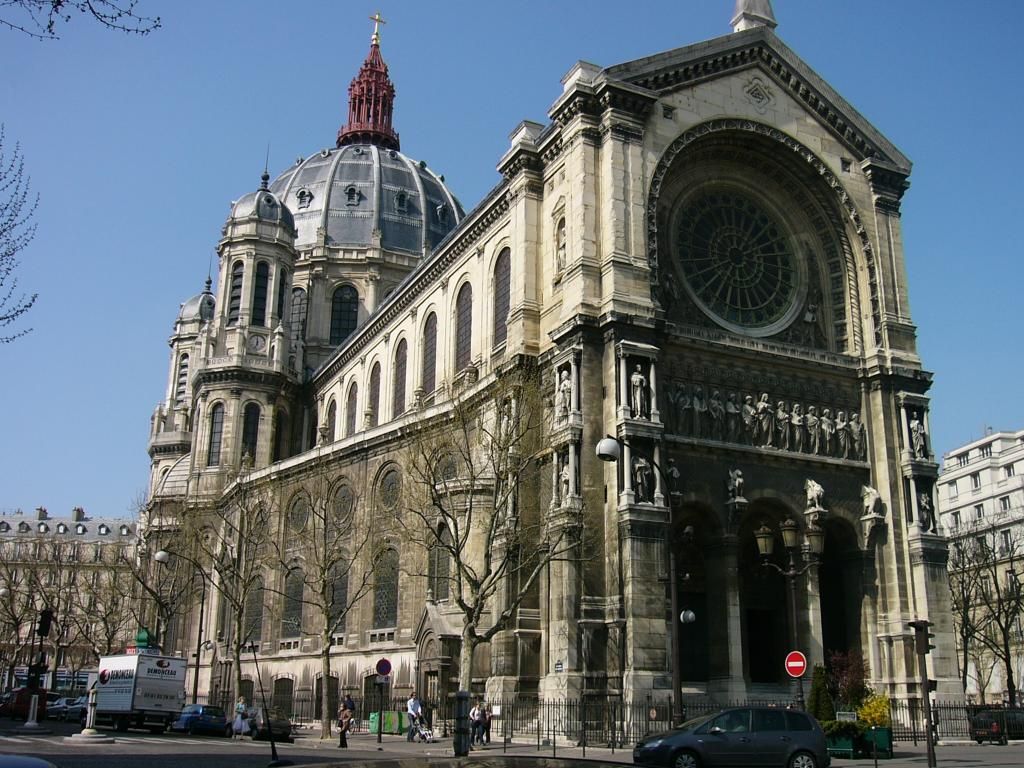 The Church of St. Augustin has regained its splendour
Categories : Visit Paris, published on : 6/4/18
L'église Saint-Augustin (The Church of Saint-Augustin), located in the 8th arrondissement, reopened in early 2018 after two years of renovation, and has regained all its splendour. Rising proudly above the Boulevard Malesherbe, it is one of the architectural jewels of Paris, and is well worth a visit. Inspiring and uplifting, it should not be missed during your stay at the Ouest Hotel.
A mix of styles
Built between 1860 and 1871, the Church of Saint-Augustin is located at the crossroads of the boulevards Haussmann and Malesherbes. Its magnificent architecture was designed by Victor Baltard, the architect of Les Halles, and is a mix of Romanesque and Byzantine elements. The dome rises 80 metres high and the building is about 100 metres long. Inside, the metal frame of the church forms part of the décor, with iron angels at the tops of the pillars, while the chapels bordering the enormous nave become increasingly elaborate towards the octagonal transept.
A church built for the bourgeois
The Church of St. Augustine was built in a neighbourhood nicknamed 'Little Poland' until the beginning of the Second Empire, in reference to the misery that reigned there at the time. Napoleon III soon remedied this reputation by creating major roads in the capital. These, lined with modern buildings, reshaped the profile of the area, quickly turning it into something of a bourgeois neighbourhood. Demand for a church in keeping with the social standing of the neighbourhood's new inhabitants grew, and so the Church of St. Augustine was built. It was inaugurated in May 1868. The building did not, however, receive much acclaim. The dome's lantern was compared to a Prussian helmet, the mixture of styles aroused considerable criticism and the architect's Calvinism was considered inappropriate for the designer of a Catholic church.
A new face for a transformed church
Four million euros were spent on the restoration of the Church of Saint-Augustin, giving it a magnificent totally renovated facade. Sculptors, ceramists and gilders worked on the 39 statues. Some, which had suffered extensive weathering, have been patiently restored, others were replaced, including groups of cherubs, angels and statues of saints. Some 12,000 gold leaves were used on the central rose window and the roof covering has also been rejuvenated and enhanced. The organ is a marvel and one of the curiosities of Paris with its three keyboards and forty-two registers. The Church of Saint-Augustin has truly been restored to its former glory.
Book your stay at the Ouest Hotel today and discover the incredible architecture of the Church of Saint-Augustin, situated only 350m away from our establishment! Following your visit, you can return with pleasure to the warm conviviality of the Ouest Hotel and the comfort of your well-appointed room.