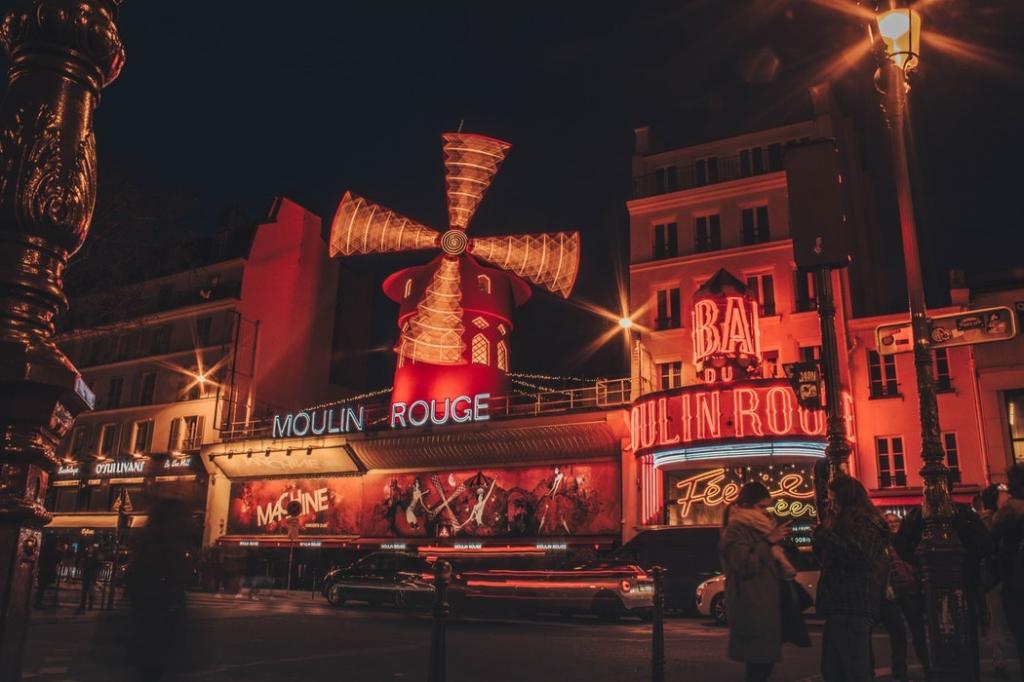 Moulin Rouge; spend an unforgettable evening
Categories : Entertainment, published on : 2/14/19
The Moulin Rouge is a great place to enjoy exceptional evenings of entertainment during your stay in Paris. Situated just 10 minutes away from the Ouest Hotel, this world-famous cabaret venue offers superb shows bursting with effervescence, glamour and charm. This is the essentially Parisian experience that you cannot afford to miss! Spend an unforgettable evening in the birthplace of the can-can!
Paris is a party at the Moulin Rouge
Paris is a city that never sleeps and at any time of the day or night it's possible to experience moments of magic. Parisians and visitors alike get together at the Moulin Rouge for frenzied and glittering evenings summed up succinctly by the title of the French translation of Hemingway's A Moveable Feast; Paris est une Fête (Paris is a party)!
An evening at the Moulin Rouge promises pleasant, fun and unusual moments spent with family, friends or as a couple in the midst of a celebratory atmosphere that is uniquely Parisian. If you are planning a trip to Paris, make the most of it by booking your stay at the Ouest Hotel today. Remember that our fine establishment is located just 10 minutes from the legendary venue so after the show you can quickly return to the comfort of your room to continue the evening's magic in your dreams!
Backstage at the Moulin Rouge
The Moulin Rouge has an exceptional team that works behind the scenes to ensure that the show on stage is magical. Talents of all kinds are busy in the shadows organising, looking after the costumes, working in the kitchens ... and many other things! The professionalism of the teams allows the Moulin Rouge to offer unique performances that are staged throughout the year to acclaim from all over the world.
An enchanting evening in the cabaret room
At the Moulin Rouge you'll discover a magnificent room with 900 seats and a Belle Epoque décor. The perfect place in which to spend a memorable evening and enjoy a delicious French dinner.
Admire the authentic murals and Morris columns adorned with original posters featuring the many great performers (Jean Gabin, Edith Piaf, Liza Minnelli and many others ...) who have graced the stage of this legendary cabaret. You will be seduced by the welcoming atmosphere created by the red lamps placed on the tables as you enjoy your meal and watch an amazing show.
The Ouest Hotel, located just minutes from the Moulin Rouge, will surely be your preferred place to stay in Paris. While here, don't miss a visit to the Moulin Rouge to enjoy an exceptional entertainment experience in a festive atmosphere and feel a close connection to French culture.
We are waiting to greet you as our guest. Book your stay at the Ouest Hotel without delay and experience the magic of the Moulin Rouge.
******
More information:
---
Ouest Hotel, a 3-star hotel a few steps from Gare Saint-Lazare