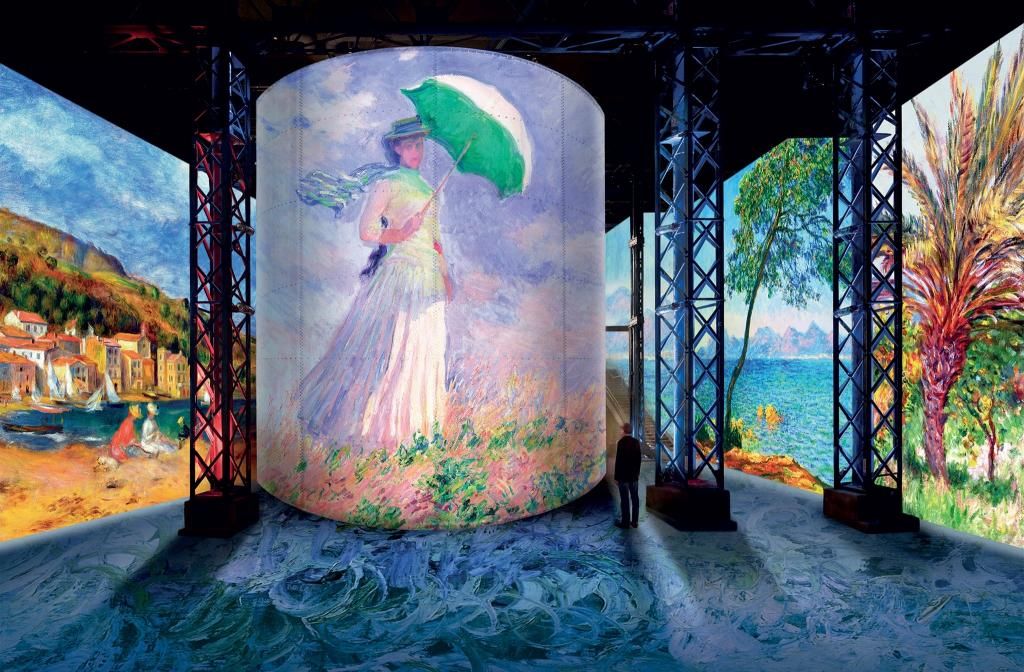 Journeys Around the Mediterranean; the latest immersive exhibition at the Atelier des Lumières
Categories : Exhibitions and Museum, published on : 2/14/20
Established in a former foundry in the 11th arrondissement of Paris, the Atelier des Lumières is the place where art and the digital world come together in perfect harmony. The first digital art centre in Paris has proven to be a massive success. Currently, visitors find themselves taken on an incredible pictorial and immersive journey into the colours and light of the Mediterranean.
Journeys Around the Mediterranean; an intense pictorial immersion
After the immense success of last year's Van Gogh exhibition, the 2020 season of the Atelier des Lumières will plunge you into an azure paradise with Journeys Around the Mediterranean and its wonderful shores as interpreted by several great artists. This retrospective, an enchanting forty-minute festival of colours and lights, takes you on a voyage from Monet to Chagall by way of other great masters of painting such as Derain, Duffy, Matisse and Pissaro... giving a fascinating overview of various artistic movements.
Some 500 works scattered in numerous museums around the world are brought together at the Atelier des Lumières in a particularly original form. You will feel as though you have stepped inside these stunning works, able to see their colours and details as never before. This magical spectacle enchants both lovers of great art and those who are simply looking for a remarkable experience.
Technology in the service of art
To project works of art on 3,300 m2 on floors and on walls that reach up to 10 metres in height, the Atelier des Lumières uses the latest digital technology. About 140 video projectors and some fifty speakers broadcasting a spatialised sound system are needed to bring this monumental immersive exhibition to life. The paintings of major artists spanning the period from Impressionism to Modernism seem to come to life to the music of Ravel, Debussy and Ella Fitzgerald.
And as a bonus, Yves Klein; Infinite Blue...
In parallel with the exhibition Monet, Renoir, Chagall; Journeys Around the Mediterranean, the Atelier des Lumières is presenting Yves Klein; Infinite Blue, another immersive exhibition, this one lasting 10 minutes. This presentation celebrates the artist from Nice who distinguished himself in the artistic world of the 20th century with, among other achievements, his famous IKB (International Klein Blue), a distinctive ultramarine. A major artist of his time, Klein had a deep admiration for the Mediterranean sky from which he drew inspiration for his monochrome series. These were created to express the living world of each colour but were perceived by the public as a polychromatic whole. The exhibition Yves Klein; Infinite Blue invites you to discover 90 works by the artist to the accompaniment of the music of Vivaldi and the electronic sounds of Thylacine.
Take advantage of your stay at the Ouest Hotel to experience this new kind of art exhibition evoking the colours of the Mediterranean...
******
More information:
Photo : © Culturespaces / Nuit de Chine, Photo © Lefevre Fine Art Ltd., London
---
Ouest Hotel, a 3-star hotel a few steps from Gare Saint-Lazare