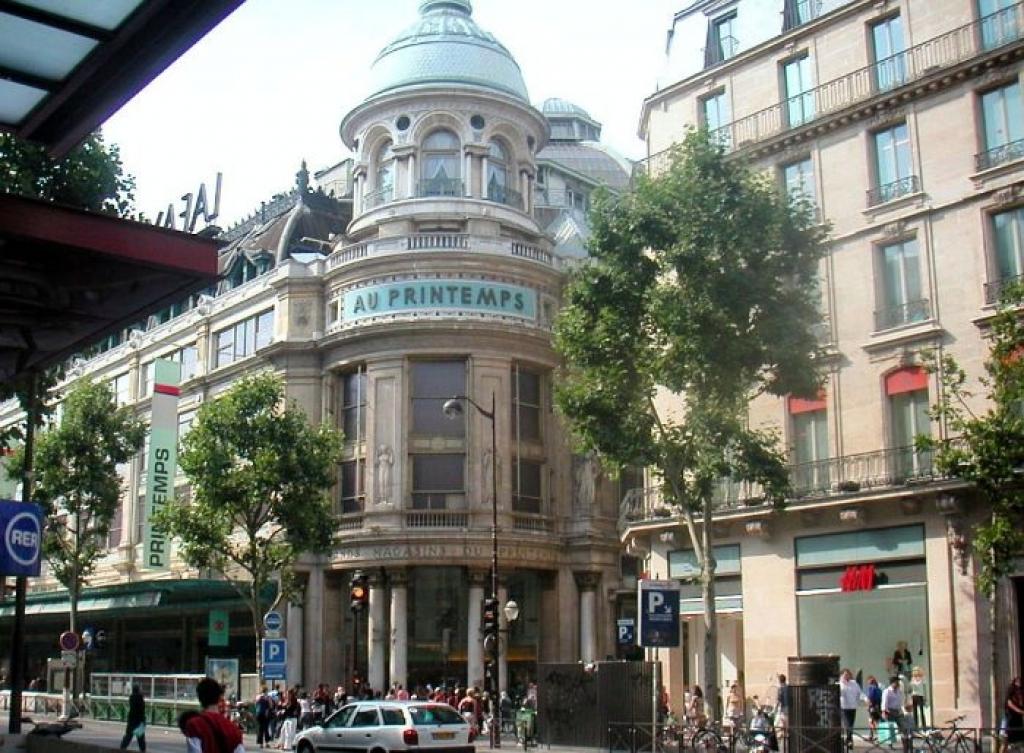 Enjoy the Paris summer sales and celebrate 150 years of Printemps
Categories : Fashion and Shopping, published on : 7/9/15
In 2015, the eagerly anticipated Paris summer sales will be held from June 24th to August 4th, and because this city is generally regarded as the world capital of style and fashion, you just know you'll be spoiled for choice! However, remember it's not just clothing and accessories on which the prices will be slashed; you'll also find astonishing bargains in a wide range of goods. In addition, this year the famous Parisian department store Printemps celebrates 150 years, and is marking the occasion in style, with an array of special events and tempting offers.
Le Printemps celebrates 150 years
Opened in 1865, Printemps is proud to have enjoyed 150 years of innovation, elegance and sharing. For this significant anniversary, the store is thinking big and transforming itself into a huge garden of attractions where rose hues and exquisite floral arrangements take centre stage. Think of it as spring (which is the translation of the name, Printemps) lasting for 150 years, and you'll get the general idea of this ambitious theme.
More than 400 leading brands have created nearly 1000 products to help Printemps to celebrate this auspicious occasion and you can find these highly desirable items at the temporary e-shop available on the website at 150.printemps.com. These goods are to be found in various categories, including men's and women's ready-to-wear, decorative objects, fashion accessories, beauty and home.
However, although it's the birthday of Printemps, that doesn't mean that the store can't offer gifts to its customers! The store has launched an online game on the anniversary site, where there are no less than 400 gifts designed by the most prestigious brands to be won. For the lucky ones, holidays at Club Med are up for grabs!
The Printemps facade is enchanting, with more than 5,500 roses adorning it, and the display windows are certainly not forgotten, either. In fact, Printemps invited various French and international artists and designers (11 in all!) to dress its windows. The result is an outstanding success as each of them is really an independent art installation that provides a unique emotional and visual impact. Don't miss them!
What's a birthday without something sweet? Printemps understands the urge and offers an all chocolate atrium courtesy of the great chocolatiers of La Maison du Chocolat, who stormed the heart of the store to offer all customers the taste of chocolate in all its forms! Your taste buds will be enraptured by éclairs, macarons, frappes, frozen chocolate cocktails and much more!
Yet even that's not all. Printemps has transformed the store until it has become a playful journey with many surprises and entertainments. You'll meet the lovable new Printemps anniversary mascot, Rose, enjoy photocalls, games and musical happenings, until you wonder who is celebrating this anniversary? Printemps or you?
To commemorate 150 years, Printemps offers a unique gift! You can go around the world in 150 days on the theme of flowers, emotions and colours. You can start this journey through the timeless beauty of Venice before discovering the pink sandstone of Petra in the Kingdom of Jordan. From there, you head towards India and the Taj Mahal, Delhi and Agra before heading off to Japan. You'll then find yourself in Australia, new-Polynesia and even California, before zooming off towards Brazil, South Africa, Kenya and Tanzania. Then you'll complete your journey in majestic Seville, Spain.
Essentially, for this celebration of 150 years, Printemps intends to spoil you beyond all expectations!
******
Le Printemps - see more
PARIS HAUSSMANN - 64, bd Haussmann - Paris 9th district - tel : 0033 1 42 82 50 00
PARIS ITALIE 2 - Shopping mall, 30 avenue d'Italie, Paris 13th district - tel : 0033 1 40 78 17 17
PARIS LOUVRE - 99 rue de Rivoli, Paris 1st district - tel : 0033 1 76 77 41 00
PARIS NATION - 21-25 Cours de Vincennes, Paris 20th district - tel : 0033 1 43 71 12 41
~oOo~
Picture copyright holder : Andrea Anastasakis, on flickr.com
---
L'Ouest Hotel, an elegant 3-star hotel at Paris Saint-Lazare