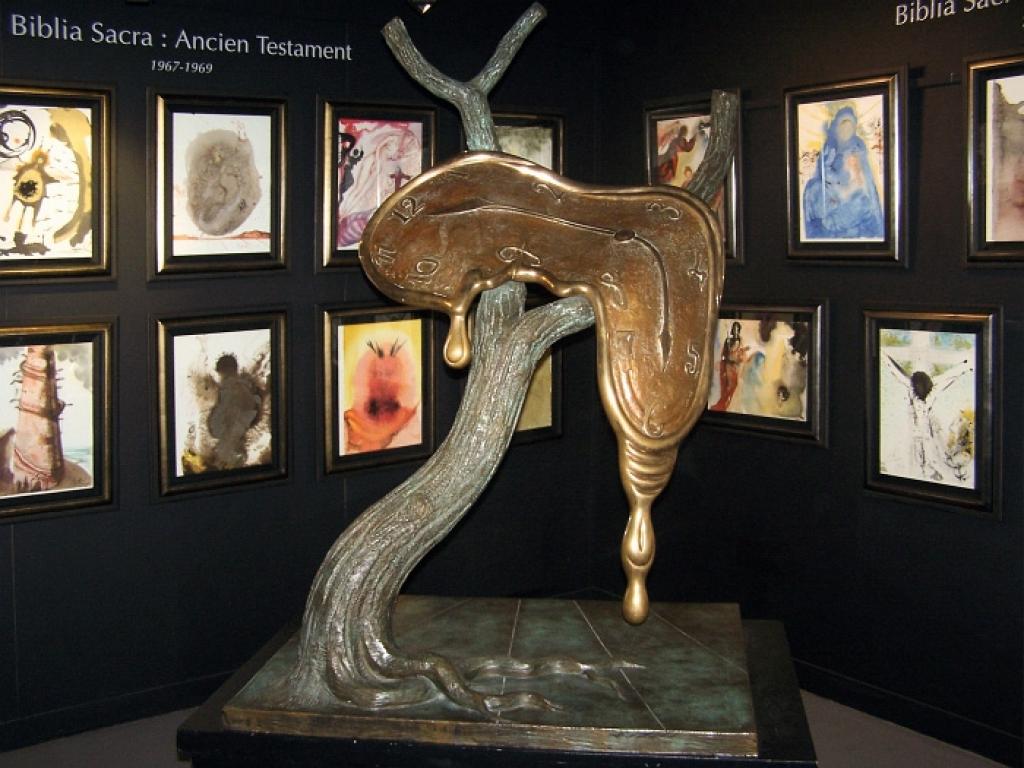 A street art exhibition at the Dali Museum
Categories : Exhibitions and Museum, published on : 12/26/14
Espace Dali, the Salvador Dali Museum in Montmartre, is the only permanent exhibition in France dedicated to the great surrealist. In addition to the Dali collection, the museum also presents temporary shows. The latest of these is both challenging and fascinating. Dali Fait Le Mur presents the work of street artists engaging in a dialogue with the legacy of one of the most controversial and brilliant artists of the 20th century. It runs until March 15th.
Street artists inspired by the works of Dali
Espace Dali boasts a superb collection of over 300 works of art created by the Spanish surrealist, including a significant number of sculptures and engravings. For this reason alone it is well worth a visit. However, at the moment the experience is enhanced by an innovative new exhibition. The premise of this show asks what Dali would have made of street art and what his reaction to it would have been. The chances are he would have approved of this grassroots urban art movement as it reflects many aspects of his own iconoclastic and provocative approach to creativity. See the exhibition and judge for yourself.
Parisian street art expert Véronqiue Mesnager curates the exhibition. She asked the 22 street artists involved to imagine an encounter with Dali and tell that story. These texts appear in the exhibition catalogue. Some of the artists are Dali enthusiasts, others are not, but all found a visual way of expressing their attitudes towards the artist. The results are presented in ten conceptual spaces and the contemporary pieces, including paintings, stencils, designs and installations, are juxtaposed with sculptures, prints or other objects created by Dali. The result is certainly thought-provoking and draws distinct parallels between the rebelliousness and virtually unlimited creativity embodied by street art and that practiced by the brilliant surrealist. There will also be a street art workshop aimed at children.
At Espace Dali in Montmartre you will not be far from the Pigalle district, where you can find a different form of art; the art of entertainment at the famous Moulin Rouge.
Treat yourself to a show at the Moulin Rouge
Since it was founded in 1889 at the height of the Belle Epoque, the Moulin Rouge has become known for its flamboyant, spectacular, colourful and fun packed revues. This tradition continues today with Féerie, a two hour show that scales the dizzy heights of all-singing and all-dancing entertainment. The world famous Doriss Girls, superb dancers who come from all over the globe, are at the heart of this revue, especially when they perform the high kicks of the French Cancan. There's also a number of speciality performers in the show and a tribute to Parisian women over the last century.
******
"Dali fait le mur" exhibition : until March 15, 2015
Espace Dali, 11 rue de Poulbot, Paris 18e
Tel : 0033 (0)1 42 64 40 10
Metro : Anvers, line 2 ; Abbesses or Lamarck-Caulaincourt, line 12
---
Picture copyright holder : Tourist Office Paris - Photographer Alexandra Lejeune